College graduation is a bittersweet moment in the life of a young adult. The excitement of embarking on a new adventure as a working professional is tempered by the sadness of parting ways with friends and mentors who won't soon be forgotten. So to mark the occasion of her friends' graduation from The University of Alabama in Huntsville (UAH), rising senior and chemical engineering major Courtney Anderson decided to create a one-of-a-kind piece to illustrate their shared experience: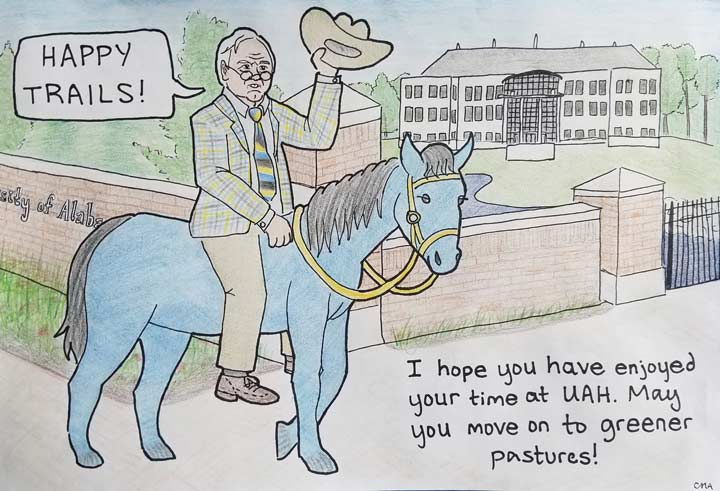 "Because UAH's mascot is a horse, I thought a few horse puns would make a good subject for a send-off picture," says Anderson, who hails from Powder Springs, Ga. "I chose to put UAH president Dr. Altenkirch on Charger Blue's back because my friends encompass a few different majors, and I felt like Dr. Altenkirch was a good representative of the university as a whole."
Anderson's artistic endeavors are more than just a side project; they're a passion project that dates back to her earliest days. "I took art lessons in elementary school, and I spent a lot of time drawing my pets and stuffed animals," she says. "In high school, I got better at drawing people because I started drawing my friends when I finished my work early in class." Often, her mother would commission pieces for relatives and neighbors, giving Anderson ideas for how to personalize them, a tradition she says she "carried to college, continuing to draw birthday and special-occasion pictures for my friends."
For each, the process is the same. "I do preliminary sketches on my dry-erase board before doing a final copy with pen and paper," she says. But because this particular drawing featured a likeness of Dr. Altenkirch, she decided to seek his permission before sharing it with the intended recipients. "I emailed him and asked him if he was ok with my portrayal of his image," she says.
His response? Not only did he "really seem to enjoy it," she says, he requested two signed copies – one for his office and one for Lowe House, the presidential residence. "When I got Courtney's drawing, I thought it was a great memento for her graduating friends," says Dr. Altenkirch. "I was really impressed by the caricature of me, from the hair and the glasses to the striped tie and the tassel loafers. The resemblance seemed quite striking."
With one more year to go before her own graduation, Anderson is now focused on gaining the hands-on experience that employers value most. This summer she is interning with Innovative Chemical Technologies, a small chemical company in Cartersville, Ga., that produces a wide range of carpet cleaners, paints, water repellents, and other surface materials. Already, she says, "it's proving to me that I am on the right path pursuing a specialization in materials engineering." And while she hopes to land a career as a process engineer at a chemical plant after leaving UAH, it's clear she's not about to give up her artistic aspirations anytime soon. "I've been drawing my whole life," she says. "And I have always enjoyed creating art that brightens someone's day."